MATEUSZ STANISZEW
ONLINE PORTFOLIO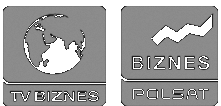 TV Biznes / Polsat Biznes (Polsat Group)
- bussiness news tv station.

Jun 2011 – Mar 2013:

TV Biznes was a bussiness news TV station that belonged to a private media company Polsat Group. I was working on graphic ID of the station, designing graphics for different programs, presentations and everyday infographics. I was also co-working on the new ID when the channel was turning into Polsat Biznes.